EventMAX is a full stack event production solution that provides registration, ticketing, agenda building, attendee engagement, app creation, speaker management, sponsor/exhibitor management and credentialing.
EventMAX at a Glance:
Registration Management. Offer multiple registration methods with unlimited registrant types, hotel room blocks, and support invite-only events or sessions with ticketing.
Marketing and Promotion. Brand your event with a comprehensive event website, then email prospective attendees, speakers, sponsors and vendors to drive targeted traffic.
Content Management. Collect and review speaking topics, curate event content, and automatically build sessions including keynotes, breakouts, panels and more.
Attendee Engagement. Build a personalized event website for every attendee to discover content, build an agenda, schedule meetings and network with others.
Sponsor Management. Sell booth space, assign locations, register booth staff, manage lead retrieval systems, schedule meetings and monetize add-on sponsorships.
Onsite Services. Manage check-in, produce badges and credentials, coordinate materials pickup, control digital event signage and integrate onsite scanning technologies.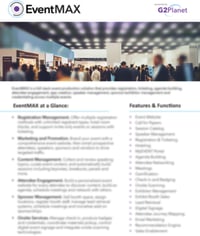 Registration
Offer online event registration for attendees, speakers, sponsors, exhibitors, press and employees, both pre-event via the Event Website and onsite for walk-ins—with an unlimited number of attendee types.
Ticketing
Implement in place of standard registration, or as an add on to manage limited seating or exclusive events—produce PDF tickets with smartphone-scannable QR codes for pinpoint access control.
Attendee Engagement
Allow attendees, speakers and exhibitors to manage their event experience via a customized MyEVENT portal including personal agenda building, peer networking, meeting management and hotel reservations.
Mobile Event Apps
Create a downloadable event guide for smartphones and tablets, and extend personalized content into the attendee's handheld device—including surveys, polls and sponsor advertising messages.
Gamification
Offer a collection of show or exhibitor-sponsored attendee engagement activities for increasing event participation and buzz, including e-Raffles, e-Passports, Point Programs and e-Auctions.
Content Management
Collect topics and curate session content by enabling submitters, reviewers and event administrators to work online, then easily build and publish the entire content agenda from the same database.
Speakers and Sponsors
Implement automated workflows to collect pre-event materials, conduct speaker reviews and vendor meetings, sell and assign booth space, and register speakers and exhibit workers.
Badging and Credentials
Manage the production and issue of attendee credentials at check-in, and support a variety of badge formats including traditional printed, RFID, credit card and mobile QR code.
Scanning
Support multiple onsite scanning types including RFID and QR code, track attendees as they enter or exit sessions, and control access by attendee type, purchase requirements and seating availability.
Reporting and Analytics
Access dozens of standard event performance reports or create robust ad hoc reports during the event, share them with the event team, and analyze post-event performance year over year.