We've been interviewing some of the smartest, most interesting event professionals around--sharing their insights, advice, and unique experiences. This week we sat down with the powerhouse David Adler, @davidadler, founder and CEO of BizBash, the largest site for event & meeting pros looking for venues, suppliers and news.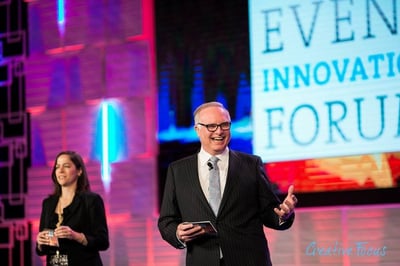 1) With your background in publishing and communications—then founding BizBash 18 years ago and growing it into the leading resource for event planners globally—you've got a unique perspective on this industry. What one or two aspects of the events space have changed the most?
Since BizBash Media started in 2000, we have seen a revolution and evolution in the event world. With the introduction of the iPhone eleven years ago, everyone became a content creator. Because of that capability, events are no longer just for the people in the room, but for all the "amplification power" of the people in the room. The result has been that around 25% of marketing budgets now have an event component, and there is more strategic use of events to market everything from products to presidential candidates.
What's coming next is even more interesting. "Convening power" is now the new marketing for major brands. When a company or brand convenes, they are touching their customers and constituents in more meaningful ways. I have even heard that in the next few years Amazon Web Services (AWS) events will attract over 200,000 participants who are convening for training, commerce and entertainment. They are along the lines of a Dreamforce event, which attracted more than 170,000 participants in 2017.
I also foresee something called practicing "Radical Humanization," which will be a reaction to the scary side of artificial intelligence and machine learning. It will be a race to show that despite data, a company still has a heart and puts people first. What better way to humanize than to have very strategic events that bring people together in smart ways, resulting in better relationships, development, and experiences.
2) What does a typical day look like for you now?
I love my job.
One evening I am leading a Jeffersonian-style dinner party; the next, I'm speaking at a conference, hosting a podcast, meeting with my editors, and taking to event pros.
I also get to travel to every major city in North America and experience firsthand trade shows, consumer shows, festivals, conferences, launches, press events and more, and see up close and personally how ideas are communicated. I am a big believer in what MIT professor Alex Pentland calls "Social Physics," the art of how ideas flow. Watching this firsthand helps me bring the event industry to a new level of appreciation.
3) What's the biggest challenge you face in your work?
I guess the biggest challenge is the speed of change and being a lifelong learner without enough time concentrate. I consider myself "Millennial Minded" even though I am so far from being a millennial, but keeping a fresh perspective is always a challenge.
4) What types of event-related technology do you use or interact with most regularly?
I am always on technology and even lead an annual event for the Society of Independent Show Organizers called "The Event Innovation Battlefield, " where the trade show industry is exposed to the latest ideas. I believe that technology makes "what was complex, a trivial pursuit." The smart tech solutions melt into the infrastructure and become just part of normal life.
5) What do you see as the biggest trend(s) in events this year, particularly in relation to event technology?
The biggest trend that I want to see is making tech trivial. It should solve problems and not be considered an actual discipline. It's part of the air and the sound and the light and every day life.
6) If you could give event planners / marketers one piece of advice, what would that be?
Be a lifelong learner. The purpose of going to conferences or even reading the trades (e.g., BizBash), is to build up your intellectual capital. Most of our days we are drinking from a fire hose and spending our intellectual capital. Invest in yourself. You are worth it.
To take a step towards trivial technology, we've put together a whitepaper on the importance of creating a healthy ecosystem, and how it should integrate with your pre-existing marketing stack:
And, for weekly insights into the event management industry based on nearly 20 years of experience,
to G2Blog!