Vice Presidents, Directors of Events and other event leaders are under tremendous pressure to drive successful outcomes for their event programs. As the event marketing industry expands, it's increasingly difficult to organize the chaos of planning many events at once. It's hard enough to keep up, much less devote time to strategic decision-making processes.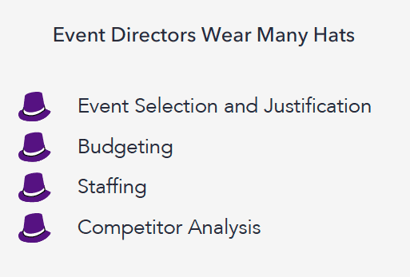 That's compounded by a lack of visibility, especially for companies with hundreds or thousands of events scattered across the globe. How do you intelligently allocate multi-million-dollar (or even billion-dollar) budgets and accurately predict ROI when you don't know which events you're in, why you're in them or what you're doing in them?
Over the past 20 years, we've worked with Fortune 500 companies that spend tens of millions annually on their corporate event and field marketing programs. Unequivocally, they say they face significant challenges in three areas:
Visibility
Event Selection
Asset Allocation
The common constraint? Lack of visibility and strategic, data-driven planning. This post outlines how the right strategy mitigates common challenges and provides a framework for confident decision-making that influences positive event outcomes.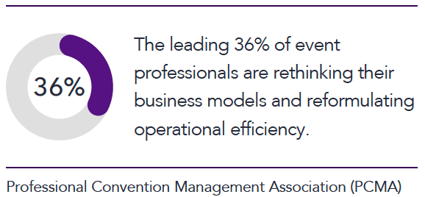 Event Planning Pain Points
Over the past two decades, hundreds of event leaders have shared their greatest challenges with G2Planet. These are the most common themes.
1. Lack of Visibility
It's challenging enough to keep track of a single event and all its moving parts, much less maintain a holistic view of an entire event program with hundreds of corporate events per year.
Many event program leaders say they do not have a shared view of:
What events they're in
Why they're in them
What they are doing at those events
Companies with hundreds or thousands of events don't have a firm grasp on how those events impact their organizations. They don't have the visibility required to make decisions confidently.
In many cases, events are siloed. One business unit organizes one event, while another plans a different event. One hand doesn't know what the other is doing, making it difficult to allocate resources program-wide. Companies risk activating too many events at once and not having the resources to support them or activating too few events to make a meaningful impact.
2. Event Selection
Choosing the right events is critical to program success, but most companies do not have a suitable methodology for evaluating events or discovering new opportunities. They don't have information on past events or the landscape of events to consider, and they say they do not have a good way to:
Research, track and analyze opportunities for availability, business fit and alignment
Score events against business priorities to identify the best opportunities
Event directors want to make the best decisions, but they can't predict outcomes because they don't know how their events have performed over the past several years. At the same time, they're concerned about missed opportunities and opportunity cost.
3. Competitor Tracking
If it's challenging to keep track of your own events, it's even harder to keep tabs on competitors. Event leaders say they struggle to track which events competitors are participating in and which they're skipping.
Without that information, it's more difficult to:
Research, track and plan corporate events against event calendars
Discover opportunities competitors are missing
Ensure you don't miss important events
Gain a competitive advantage
4. Measuring ROI
Many event leaders say it's difficult to know the ROI for their entire event program. They're unsure how much they're spending on events, and they feel they're wasting time on unproductive activities. These factors make it a struggle to predict outcomes or get events approved.
Some of that uncertainty stems from an inability to capture all event expenses in line with event marketing budget norms. Calculations should include not only obvious expenses and metrics such as new leads, but also undocumented time spent on supporting events.
Event directors do not have the visibility they need to manage, plan and respond to unforeseen challenges. In the chaotic world of corporate event planning, that lack of visibility leads to:
Event expenses allocated to other budgets
Inflated costs
Uncertain ROI
5. Resource Allocation
Many companies sense they are spending too much of their event budgets in one area and not enough in another.
They want to analyze past results so they know where to increase investment and where to scale back, but their current tools can't provide that data
They don't have a good handle on staff availability for event schedule
They're unsure which marketing investments deliver the best ROI
Marketing is consistently evolving and expanding, but it isn't easy to embrace new marketing strategies and channels without knowing where to get the most bang for the buck.
Right Ideas, Wrong Tools
Ultimately, all these challenges boil down to a single root cause: event directors have the right ideas, but they're using the wrong tools. They don't have a process to collect the data they need, then organize it in a way that simplifies decision-making toward strategic goals.
Strategic Event Best Practices
We will be providing some best practices for strategic event planning in our next blog post.
---
Discover Event Program Management
Event Program Management is a unique philosophy that focuses beyond managing single events to unified management of your entire program. With EventCENTRAL by G2Planet, you can centralize, organize and analyze data to help you make the best decisions for your portfolio.